Bonjour, je me suis fait alpaguer ce matin par mon flux RSS et une étude sur les ventes de pc au premier trimestre 2022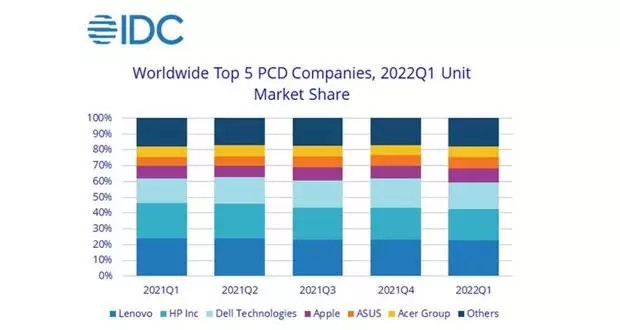 On remarque donc en regardant en profondeur que les pc que tous les constructeurs perdent peu à peu de places sur le marché, mais aucun n'avance vraiment (certainement une place prise par les tablettes, smartphone et autres équipements connectés).
Le commun des mortels ne doit pas se fier aux nombres de ventes d'une marque, mais plus dans les retours de panne et autres réparations. C'est facile de vendre du matos, mais si c'est pour qu'il tombe en panne 2-3 mois après ce n'est pas ouf.
Je me suis mis à rechercher les marques les plus réparées en 2022, mais malheureusement je n'ai pas trouvé d'études récentes.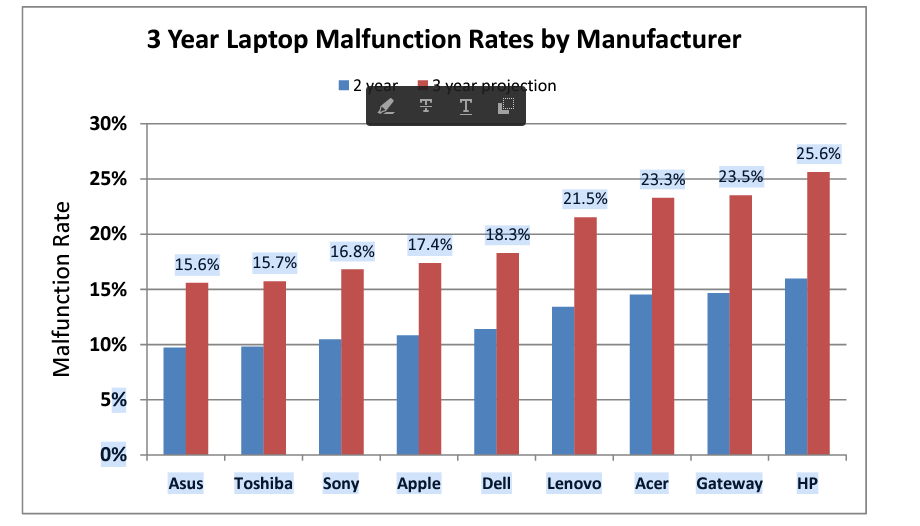 Manufacturer:              U.S. Computer                RESCUECOM                            Computer
                                    Market Share                  Computer Repair Share           Reliability
                                    (percentage Share         (percentage of service calls     Score
                                    of computers shipped)    to 1-800-RESCUE-PC (1-800-737-2837))

Apple                            8.0 %                        2.2 %                         365
Asus                             2.7 %                        0.9 %                         305
IBM/Lenovo                    3.7 %                        1.2 %                         305
Toshiba                         7.7 %                        3.9 %                         199
HP/Compaq                   26.9 %                      18.0 %                         149 rescuecom
Grâce à ces différents tableaux et graphiques, on peut se faire une petite idée des pc les plus réparées, on se rend compte que HP n'a pas une très bonne place. De l'autre côté, on retrouve Lenovo et Toshiba qui détiennent une bonne place, mais aussi Apple qui reste fiable.
En conclusion, je conseillerai plus à tous types d'utilisateurs qui souhaitent acheter un nouveau pc de privilégier Lenovo (Toshiba je pense que cela dépends de l'endroit de production).